At Rescue Air Heating & Cooling, we're proud to serve the community we work in, and we look for ways we can give back and make life better for everyone. One way that's always been near and dear to our hearts is the plight of children who suffer from serious conditions or diseases. To that end, we're extremely proud to give back by serving as the corporate sponsor of the Crayon Club at the Texas Scottish Rite Hospital for Children!
We recently got the opportunity to go down and visit the hospital and see what our efforts to help with hospital outreach and philanthropic efforts have done to help the children in need of these important, life-changing treatments. Being able to walk through the halls of the hospital, meet with some of the children and see how the hospital is continuing to help them thrive despite their conditions was a truly unbelievable experience. We're extremely proud of what we do, and it's an amazing privilege to be able to give back in the way we can.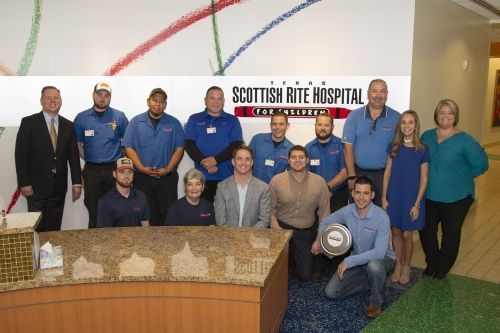 About Texas Scottish Rite Hospital for Children
The Texas Scottish Rite Hospital for Children is one of the leading medical facilities for children in the country, and the most prestigious in the Dallas-Fort Worth metropolitan area. The hospital provides the highest quality of care for orthopedic, neurodevelopmental, and musculoskeletal conditions in addition to treatment for learning disorders.
The hospital was initially founded back in 1921 by a partnership between Dallas-area members of the Texas Masons and W.B. Carrell, M.D., the first orthopedic surgeon in the area. Initially started as a way of providing care for children with polio, the hospital has since adapted and now treats numerous orthopedic conditions.
The Crayon Club is a way for young professionals who wish to take part in the hospital's philanthropic efforts to volunteer to help better the lives of young children who are suffering from orthopedic conditions. Crayon Club volunteers participate in events like the Dallas Marathon and the Scottish Rite Hospital's Farm and Ranch Day.
The Crayon Club also provides education where people can learn about advancements in pediatric orthopedic medicine and other research, much of which is conducted at the hospital. An Evening with Crayon Club is a causal event where Crayon Club members can introduce new friends to the hospital, complete with dinner and a speaker.
If you'd like to get involved with The Crayon Club or simply need your heating or air conditioning system serviced, reach out to the Dallas HVAC services team at Rescue Air Heating & Cooling by calling

(972) 201-3253

today!