Patriot Air Purifier Systems
Have Yours Installed by Rescue Air Heating and Cooling!
Believe it or not, the air inside your home may be some of the worst air you breathe at any point in the day. Despite the fact that the air outside may be riddled with dust, pollen, allergens, and smog that cause all sorts of problems for your health and respiratory system, the air inside your home can actually be several times worse for you than the air outside. That's not great when you consider that you spend the majority of your time breathing the air inside, especially now with the COVID-19 pandemic causing so many people to shelter in place at home. Patriot IAQ systems have been found to kill bacteria, viruses, mold, and fungus and have achieved a *99.999996% reduction on microorganisms. If you want a reliable, fast, and effective way to clean the air in your home, Rescue Air Heating and Cooling offers premium quality air purification technology for virtually any HVAC system, including the Patriot air purification system!
Interested in learning about bringing the Patriot IAQ system to your home? Schedule an installation consultation with a member of our team by calling (972) 201-3253 today.
How the Patriot Indoor Air Quality System Works
The Patriot indoor air purification system uses unique technology to filter all types of indoor air hazards out of your home without the use or production of harmful substances like hydroperoxy, peroxy, and hydroxyl radicals. The ASHRAE® position confirms that these substances in their gaseous state can actually be harmful to your health, and their short-lived time in your air mean they aren't necessarily the most effective at doing what they're advertised to do. Instead, the Patriot system uses powerful photocatalytic oxidation technology, meaning it uses a combination of a UV air scrubber light and an activated carbon filtration cell to effectively remove almost all types of air quality hazards.
The system is composed of two primary parts: the UV air scrubber light and the activated carbon cell filter. The Patriot IAQ system is mounted in the primary air vent that emerges from the top of your indoor air conditioning unit. When turned on, this system first strains the air through the activated carbon filter to remove particulates and odors. The air then passes by a high-power UV air scrubber lamp that neutralizes biological contaminants like mold, viruses, and bacteria. As a result, you'll enjoy air that's several times cleaner than what you're already experiencing.
The Patriot whole-house air purification system is one of the only air purifiers on the market that tackles all types of airborne contaminants, including:
Particulates
Mold
Bacteria
Viruses
Germs
VOCs
Hidden odors
Smoke smells
Toxic fumes
Pet dander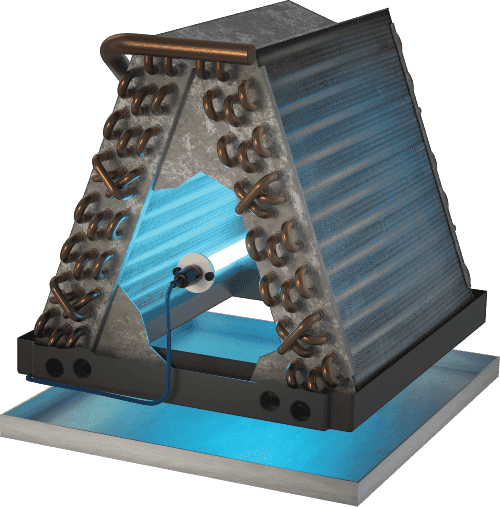 The Tests Results Tell the Story
Does the Patriot air purifier really work? The test results don't lie: when installed properly, Patriot system owners saw a significant improvement in their indoor air quality in as little as one hour, and saw an almost complete elimination of certain types of contaminants in as little as six hours. In fact, a test involving Toluene, a common household VOC that smells like paint thinner, levels as high as 700 parts per million dropped to just over 400 parts per million in one hour, and dropped all the way to less than 50 parts per million by the six-hour mark. Different substances had different results, but almost all had a similar trajectory for cleaning and purification: the system produces results, and does so quickly.
If you or someone you live with struggles with asthma, a weakened immune system, or a respiratory condition, then a Patriot UV whole-home air purifier may be the best investment you make in your long-term health and comfort. These systems require very little maintenance and upkeep, and they operate automatically with your current HVAC system. In fact, the Patriot can be installed in virtually any HVAC system!
Special Pricing on the Patriot Air Purifier
Want to protect your home from COVID-19? Are you looking to improve your home's cleanliness or keep the air in your business fresh and odor-free? Are you simply looking for a long-term solution to health issues that are caused by stale air? Rescue Air Heating and Cooling is proud to offer the Patriot indoor air quality system to help with any of these needs, and we're extremely proud to be able to bring it to you for a limited-time special price!
Contact Rescue Air Heating and Cooling today and let our team help you breathe easier in your home or business!
*Tested by Antimicrobial Test Laboratories (ATL) 99.999996% reduction of MS2 bacteriophage.