Dallas Air Conditioning Service
Trusted AC Maintenance Experts Serving Richardson, Garland, Plano and Beyond
Did you know that a 10 percent loss of refrigerant can cause your air conditioner's electricity consumption to go up by 20 percent? You can detect refrigerant problems and other preventable issues by scheduling routine service for your air conditioner. Contact
Rescue Air Heating and Cooling
for the most trustworthy AC service in Dallas, TX
.
An air conditioner is simply a machine. Like all machines, air conditioners should be checked regularly to prevent breakdowns. But people forget, ignore this need or simply choose not to take action. Don't be one of them.
Some North Texas homeowners foolishly delay getting their AC serviced for years at a time despite having spent a significant amount of money to get them installed. Don't make this preventable mistake. If it's been a while since you last got your air conditioner serviced, now is the time to take action. If you are unsure if you need AC service in Dallas, Tx, service, don't hesitate to give us a call and we can help you.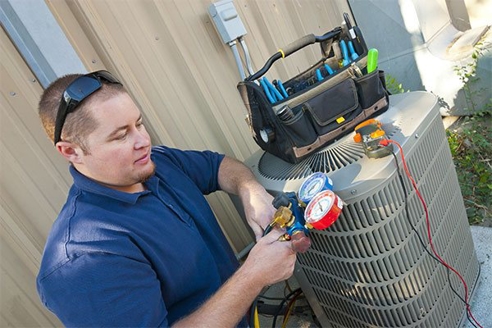 What are the benefits of regular air conditioning services?
An air conditioning unit is made to be tough and can withstand a lot of stress without failing. However, that doesn't mean you can afford to be complacent. Regular air conditioning service at your Dallas home can prevent major breakdowns and save you a lot of money.
An air conditioner will lose about 5 percent of its efficiency every year unless it's serviced. Without this essential service, your air conditioner will start showing the performance of a lesser model in just a few years. You can recover its efficiency — and keep the unit running like new — through regular maintenance as well as making sure you receive our AC repair in Dallas, Tx. With our AC service in Dallas TX will pay for itself through your savings on electricity bills and reduced cost of repair.
With regular service, a well-kept air conditioner will maintain about 95 percent of its original efficiency throughout its lifetime.
More reasons why you should call us for your North Texas AC Service
There's no doubt that your unit will benefit from our regular AC service in Dallas, Tx. After our twice a year services, the chances of your unit suffering a major breakdown will drastically decrease. The entire HVAC system will also enjoy an extended life span, your family's comfort will increase and your energy bills will come down. It's really a winning situation all around. In addition to servicing and repairs, we also provide expert AC installation services!
If you want to learn more about our air conditioning service in Dallas, TX, please give us a call at (972) 201-3253 or use our online form. You can also get in touch with us is by filling out our contact form.
Our family business proudly serves Richardson, Plano, Garland, Lennox and surrounding North Texas communities.