At Rescue Air Heating and Cooling, we've always believed in doing business the right way. Whether it's honest, upfront pricing, friendly service that prioritizes your satisfaction, or fast response to issues you might have, we've always sought to be the best. So when our efforts are noticed and rewarded, we can't help but feel an immense sense of pride and gratitude to those who have helped build us into one of the leading heating and cooling companies in the north Dallas area.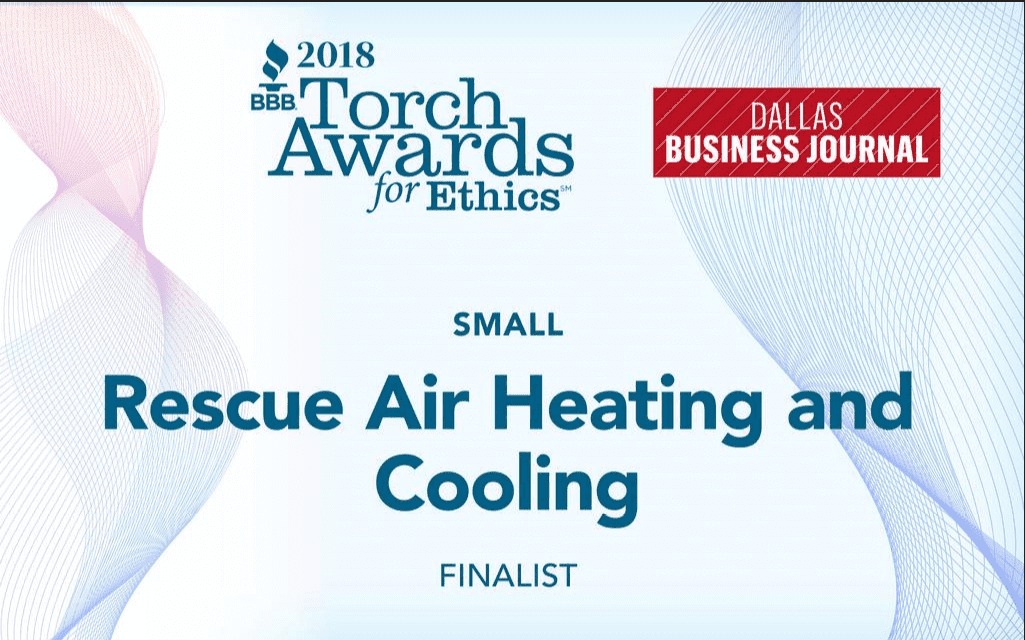 With that being said, we're thrilled and honored to announce we have been selected as one of the finalists for the coveted Better Business Bureau Torch Award for Ethics! The award, which was given in the greater Dallas area for the first time last year, honors businesses whose policies, education, business-to-business referrals and recommendations, customer reviews, and financial track record all consistently demonstrate a commitment to honesty, integrity, and exceptional conduct.
Each nominee is classified into one of four different categories based on employee count. Rescue Air Heating and Cooling is proud to be nominated in the "small" business category. We're also proud to be the only dedicated HVAC services company to receive this recognition. Also nominated in the "small" business category are Clarity Home Improvements, Legacy Plumbing, Inc., Phillips Home Improvements, and Trinity Real Estate Solutions.
Judging will be performed by representatives from across numerous industries and representing many different regions of the Dallas Metroplex. The judges have already named winners in the extra-large and nonprofit categories: Willis Towers Watson and The Alzheimer's Association Dallas & Northeast Texas Chapter, respectively.
Winners in each class are then invited to continue to compete at an international level in the Greater Better Business Bureau Torch Award for Ethics. The official winners will be announced at a luncheon on November 1st at the Hilton Dallas/Plano Granite Park.
If you've got a problem with your heating or air conditioning system, trust the professionals from Rescue Air Heating and Cooling to get it done right! Call us at (972) 201-3253 to request a service appointment and let us show you the service that has earned us nomination for such a prestigious business award!